Queens Jewish Center
Annual Appeal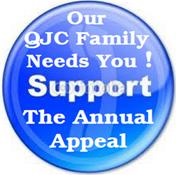 The Queens Jewish Center Needs You !
Please RESPOND GENEROUSLY
Events and Calendar
See sidebar for schedule and upcoming events at the QJC ⇒
including online RSVP
Check out the QJC Info and Our Community tabs at the top of this webpage for details.
NEW QJC Commitees - JOIN!
The Administration and Board of Trustees would like
to announce the following QJC Committees and Chairs:
Programming/Events and Fundraising - Annette Browdy, Chair
Annual Dinner Committee - Herb Schonhaut, Chair
Chesed Committee - Toni Gordon, Chair
Membership and Outreach - Adam Rudich, Chair
If you are a member of the shul and interested in volunteering for a committee, then please directly reach out to the appropriate committee chair.
ShulCloud Launch
We are proud to announce the launch of Queens Jewish Center's new website. Some of the new and exciting features are:

* View and modify your account information online (bill payment integrated into site)
* iCal integration - see the shul schedule in your online calendar

There are additional features that will be released over the coming months.

Member signup instructions are as follows:

1) Send your name and email address to webmaster@MyQJC.org
2) You will receive an email with a link. Open that link and set your password, and other demographic data.

We ask that members update their family membership information (names, birthdays, yartzeits ) as soon as possible.

Please direct all questions to webmaster@MyQJC.org
Cool Contributions
Please consider helping us to defray some of the cost. It costs approximately $10,000 a year to keep the QJC cool and comfortable. Please click the link to make your contribution online and designate "Cool Contribution" in the memo section. You may also send/bring a check to the shul office. Yasher Koach!
Sat, 3 December 2016 3 Kislev 5777