Queens Jewish Center
Events and Calendar
See sidebar for schedule and upcoming events at the QJC ⇒
including online RSVP
Check out the QJC Info and Our Community tabs at the top of this webpage for details.
Countdown to Pesach
Mechiras Chometz
Rabbi Hopkovitz' hours:
Tue. 3/28 8–9pm
Sun. 4/2 9-11am
Wed. 4/5 8–9pm
Sun. 4/9 9-11am
FORMS:
YAD
Chometz
Food Drive
Collecting Chometz and other food items to be delivered to a local Food Pantry. Please make sure items are non-perishable, new, sealed, not expired,
and with a proper kashrus certification. Drop off location box, located in the QJC outer office (near the kitchen)
Sisterhood
Bedikas Chometz
Fundraiser

"BEDIKAS CHOMETZ KITS" can be picked up in the QJC office ~ with a donation to the Sisterhood ~ Please Respond Generously to help Sisterhood continue its wonderful work on behalf of the Queens Jewish Center
Pesach Kasher V'Sameach and Thank you !
Annual Appeal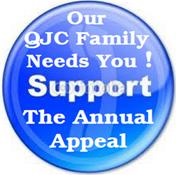 The Queens Jewish Center Needs You !
Please RESPOND GENEROUSLY
ShulCloud Launch
We are proud to announce the launch of Queens Jewish Center's new website. Some of the new and exciting features are:

* View and modify your account information online (bill payment integrated into site)
* iCal integration - see the shul schedule in your online calendar

There are additional features that will be released over the coming months.

Member signup instructions are as follows:

1) Click the Login button at the top of the page.
2) Click forgot password.
3) Enter the email address that the shul has on file for you. Then click Email Password.
4) You will receive an email with a link. Open that link and set your password, and other demographic data.

We ask that members update their family membership information (names, birthdays, yartzeits ) as soon as possible.

Please direct all questions to webmaster@MyQJC.org
Sat, 29 April 2017 3 Iyyar 5777