Corrected Link for AIPAC Event
08/20/2020 08:03:48 AM
| | |
| --- | --- |
| Author | |
| Date Added | |
| Automatically create summary | |
| Summary | |
August 19, 2020 | 29 Av 5780
A Message from
Rabbi Judah Kerbel
CLICK HERE

FOR CORRECTED LINK FOR AIPAC EVENT
Dear QJC Family,
Rosh Chodesh Elul begins tonight!
As the summer begins to come to a close, we are working hard to think about programming for the upcoming year. Please be in touch if you have ideas to share or would like to put together a potential program.
Meanwhile, please read this entire email for some of our upcoming programs and initiatives - flyers appear at the bottom.
Daily Minyanim
Be'ezrat Hashem, our daily minyanim resume on Thursday, August 20 with proper mask wearing and social distancing.
On both Thursday and Friday, shacharit will be at 6:10 AM for Rosh Chodesh. There will be no mincha this week.
We begin to say L'David on Thursday night and blow shofar on Friday morning.
Next week, we resume on a normal schedule:
Shacharit: Sunday morning at 7:15 AM, Monday/Thursday at 6:20 AM, and Tuesday/Wednesday/Friday at 6:30 AM.
Mincha: Sunday-Thursday at 7:20 PM (will change by week)
Please come in through the 108th street entrance
.
For those who are able and comfortable coming to shul, whether three times a day or committing to once a week, your help during this difficult time is greatly appreciated!
Save the Date
Sunday, August 30 at 8:00 PM: AIPAC and the Queens Jewish Center are proud to present Activism, Israel Technology and the future of The US Israel Relationship. RSVP is requested. Zoom link will be provided after you register, which can be done

here

.
Sunday, September 13 at 7:30 PM: Lecture with Dr. Erica Brown, director of Mayberg Center for Jewish Education and Leadership and an associate professor of curriculum and pedagogy at The George Washington University. Topic to be announced.
Ongoing Initiatives
Men's Yoga - Elul is a great time to work on our physical and mental health, in addition to our spiritual health! Please contact Adam Rudich if you are interested in participating at

higherpose@gmail.com

 or (917) 692-8074.
Daily Elul Messages - join the

QJC WhatsApp group

 for daily Elul inspiration, or let me know if you would like to receive them by email.
Shiurim
Rambam Hilchot Teshuva will continue during Elul. However, beginning on Sunday, August 23, it will take place between Mincha and Maariv. Please log in to Zoom approximately 13 minutes after the scheduled start time for Mincha.
Next week's shiur will be dedicated to discussing matters related to Tishrei chagim falling on Shabbos - Monday, August 24 at 8:00 PM (note date/time change). 
Machzor Maven Series - Tuesdays September 1, 8, 15, and 22 at 8:00 PM will be dedicated to exploring the central blessings of the Yamim Noraim. See the flyer below for details.
Shabbos Shuva drasha will take place Motzaei Shabbos, September 26. Stay tuned for more details.

With best wishes for a healthy new year,

Judah Kerbel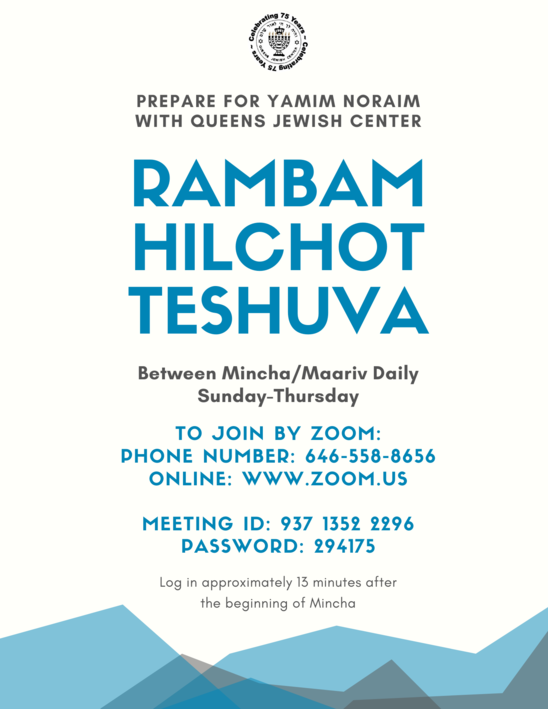 Mon, October 2 2023
17 Tishrei 5784
QJC Schedule
Today's Calendar
Shacharis

: 6:10am
Daf Yomi

: 9:45am
Mincha/Maariv

: 6:15pm
---
Tomorrow's Calendar
---
Friday Night
Candle Lighting

: 6:11pm
Mincha

: 6:15pm
Shabbos Day
Shacharis

: 7:30am
Shacharis

: 8:30am
Shacharis

: 8:30am
Mincha

: 6:00pm
Candle Lighting

: 7:18pm
Candle Lighting
Havdalah
Chol Hamoed Succos
View Calendar
Our Rabbi
Rabbi Judah Kerbel
►Click here for bio
►Click here for Rabbi's Blog
►Click here for previous shiurim
Mon, October 2 2023 17 Tishrei 5784