July 4 Breakfast and Shiur
06/27/2023 06:47:41 PM
| | |
| --- | --- |
| Author | |
| Date Added | |
| Automatically create summary | |
| Summary | |
June 27, 2023 | 8 Tamuz 5783
A Message from
Rabbi Judah Kerbel
Dear QJC Family,
This coming Tuesday, July 4 at 9AM, I plan to give a shiur to help us appreciate the holiday and infuse the legal holiday with a little bit of Torah.
The topic is "Do Jews Have a Mitzvah to Influence the Values of American Society?"
A light breakfast will be served. While all are welcome to attend, it would be helpful to receive
RSVPs
by Monday so that we can plan to have enough food. A $5 donation is suggested, and additional sponsorship is welcome as well.
Kol tuv,
Judah Kerbel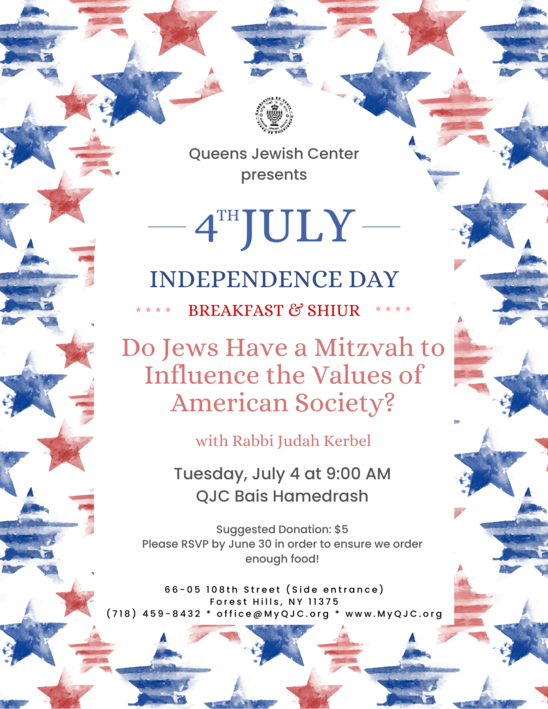 Mon, October 2 2023
17 Tishrei 5784
QJC Schedule
Today's Calendar
Shacharis

: 6:10am
Daf Yomi

: 9:45am
Mincha/Maariv

: 6:15pm
---
Tomorrow's Calendar
---
Friday Night
Candle Lighting

: 6:11pm
Mincha

: 6:15pm
Shabbos Day
Shacharis

: 7:30am
Shacharis

: 8:30am
Shacharis

: 8:30am
Mincha

: 6:00pm
Candle Lighting

: 7:18pm
Candle Lighting
Havdalah
Chol Hamoed Succos
View Calendar
Our Rabbi
Rabbi Judah Kerbel
►Click here for bio
►Click here for Rabbi's Blog
►Click here for previous shiurim
Mon, October 2 2023 17 Tishrei 5784