Shabbos Shuva and Food/Product Drive
09/22/2023 08:23:12 AM
| | |
| --- | --- |
| Author | |
| Date Added | |
| Automatically create summary | |
| Summary | |
September 22, 2023 | 7 Tishrei 5784
A Message from
Rabbi Judah Kerbel
Dear QJC Family,
There are a couple of things on my end that I want to put on everyone's radar as we enter Shabbos Shuva, in addition to everything else that we have been advertising:
1) The Shabbos Shuva drasha will take place tomorrow afternoon be"H (whether it's raining or... whether it's raining)! Mincha will begin at 6:00 PM, and the drasha will begin immediately afterwards (around 6:25). The topic is "V'ahavta: Love as the Central Pillar of Teshuva" - unpacking teshuva as it relates to our love of other Jews and Hashem, as well as Jewish unity.
Please be sure to eat Seudah Shlishis at home before coming to shul.
2) Once again, we are partnering with Commonpoint Queens to do a Food/Product Drive as a means of engaging with tzedakah during this time period.
I encourage everyone to bring at least two items with them to shul on Erev Yom Kippur to donate upon entering for Kol Nidrei
.
3) Just a reminder of the 
attached
 Tishrei Guide with zmanim and relevant halachic matters if it can be helpful the next couple of weeks.
Please be in touch if I can be helpful in any way.
With best wishes for a good erev Shabbos and G'mar Chasimah Tovah,
Judah Kerbel
Rabbi, Queens Jewish Center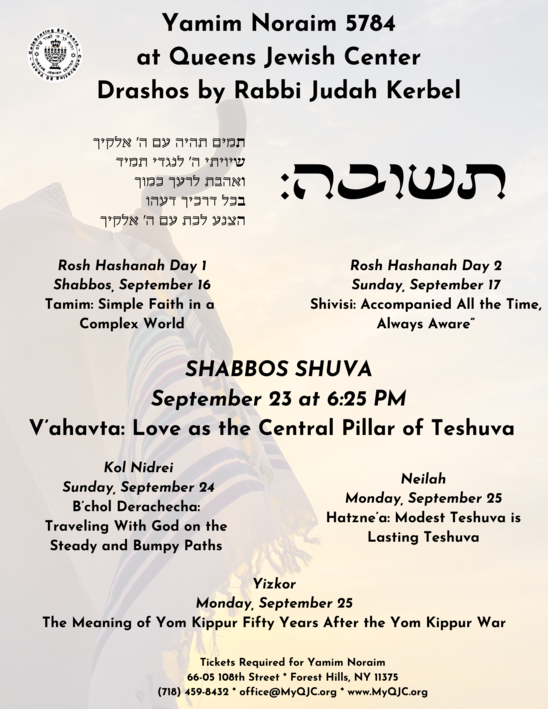 Mon, December 11 2023
28 Kislev 5784
QJC Schedule
Today's Calendar
Shacharis

: 6:20am
Daf Yomi

: 9:00am
Daf Yomi

: 9:45am
Mincha/Maariv

: 4:10pm
Maariv

: 7:30pm
---
Tomorrow's Calendar
Shacharis

: 6:20am
Daf Yomi

: 9:00am
Daf Yomi

: 9:45am
Mincha/Maariv

: 4:10pm
Maariv

: 7:30pm
---
Friday Night
Candle Lighting

: 4:10pm
Mincha/Maariv

: 4:15pm
Shabbos Day
Chovos Halevavos

: 7:15am
Shacharis

: 7:30am
Shacharis

: 8:30am
Shacharis

: 9:00am
Talmud

: 10:30am
Daf Yomi

: 2:55pm
Mincha

: 4:00pm
Havdalah

: 5:15pm
Melave Malka
: 7:30pm
This week's Torah portion is

Parshas Miketz
Candle Lighting
Havdalah
Motzei Shabbos, Dec 16, 5:15pm
Chanukah
View Calendar
Our Rabbi
Rabbi Judah Kerbel
►Click here for bio
►Click here for Rabbi's Blog
►Click here for previous shiurim
Mon, December 11 2023 28 Kislev 5784